Sat, 20 Apr 2013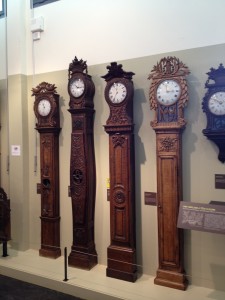 Today we headed for Normandy, a 3 hour bus ride. We visited the Musee d'Horlogerie (time keeping museum) in the town of Saint-Nicholas d'Aliermont. The people of this town created a unique type of grandfather clock and later developed the first of its kind factory for the basic movements for many of the French clocks that we have today.
These movements were shipped to Paris to put into most of the expensive artisan style clocks owned by the wealthy of that day. The clockmaking started in the early 1800s and lasted until about the end of the 19th century when business failed due to lack of keeping up with the market trends. For a small town they have an important part in the history of watch and clock making and they have done a nice job of commemorating their history now.
My Favorite clock
We were welcomed to the town by Mayor Madame Martine and then had lunch in Saint-Nicholas at the Hotel du Commerce. See separate post on that.
Then a long trip back to Paris where we saw a gallery of very expensive stuff that all looked like a museum. It was downtown Paris just a few doors down from the Musee d'Orsay (the modern art museum). They didn't let us take any pictures there.
I am tired tonite after getting two very early morning starts in a row so I get to sleep in a bit tomorrow.
Bon soir,