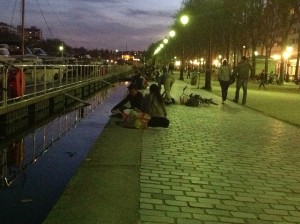 I haven't done my post for the day's activities yet but I just got to Paris about an hour ago. Believe it or not the temp is 72 deg at 9:30 at night and everyone is out having a good time. Lots of people jogging and the guys in one of the pictures are playing bocce ball.
The hotel is next to a canal – boats are moored right next to where the bocce ball is happening. The color is kind of green in the photos because it is dark.
I'll sign off for now so that you can see these photos.