I finally entered Chichester on Sunday afternoon, Sep 7th. It was a long travel day(s) – stopped over at JFK for a few hours and then once finally reaching London, Heathrow, it took about an hour before I was walking out of the airport. Then it was a two hour drive southwest to Chichester, arriving around 2 PM local time – 21 hours total travel time. I didn't get much sleep on the planes (a few nods) but since it was still afternoon when I arrived I didn't think it wise to go to sleep right away – trying to acclimatize myself to the new time zone – so I unpacked my suitcase and wandered the town a bit.
Chichester is 70 miles southwest of London, 30 miles west of Brighton along the south coast of England. It is a very old town – originated by the Romans in the first century. They called it Noviomagus Regnensium, which could be translated Newmarket of the Regni tribe. It is constructed as a circle with the main streets running North-South and East-West – just like dividing a pie into four parts. The streets are aptly named, North, South, East, and West Streets and the entrances along those streets into town are called, North Gate, South Gate, etc. We live on North Walls street – you can figure out where it is. We are not far from the North Gate along the north wall. The walls actually weren't built until the 3rd century.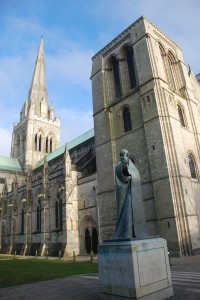 Two other distinctive features of the town are its cathedral and it market cross. The cathedral, constructed between 1076 and 1108, seems way out of place for such a small town. It is massive compared to anything else in the town. To give you a feeling for how small it is, I walked from North gate to south Gate in ten minutes at a very casual pace.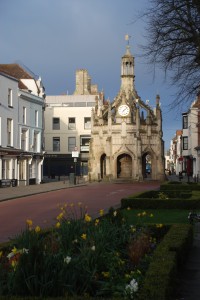 The market cross is situated right at the cross roads of the two main streets and was built in 1501 to provide shelter for poor market traders who were unable to afford a market stall of their own.
Chichester also has a modern day significance, it is the home of the Chichester Festival Theatre, the University of Chichester and the Goodwood Motor Circuit. All of which are less than a couple miles from the town centre.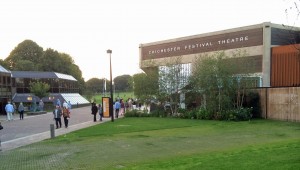 The theatre is less than 5 minutes walk from our flat. It was opened in 1962 with Laurence Olivier as its inaugural Artistic Director. The University has its roots in Bishop's Training College which was founded in 1839 in honor of Bishop William Otter. One of the lecture rooms at the college was used as the one of the operations rooms for the RAF during the D-Day landings in 1944. It gained University status in 2005 and has just over 5000 students.
The Goodwood Motor Circuit opened in 1948 around an RAF airfield that was used in the 2nd World War. In 1966 is stopped being used as a premier modern racing arena but continued to be used as a test circuit. Then in 1998, a reenactment of its original opening 50 years prior was held – such an effort was made to restore the circuit to how it looked when it first opened that it has turned into and annual tradition. The Goodwood Revival has established itself as the world's most popular historic motor race meeting, and the only event of its kind to be staged in the romantic time capsule of the Fifties and Sixties. It just happens that this years' Revival is being held this weekend coming up – the town will be crazy with visitors I am sure.
And all that says nothing about West Dean College which is where I am going to school – I'll write a note on West Dean a little later but I think that's enough for today.
cheerio,