Donald Saff
Art Historian, Artist, and Author (U.S.A.)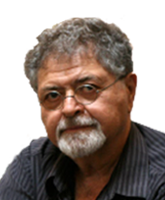 Bond Time: Pendulum, Spring, and Wire
Biography
Presentation
Further Information
Donald Saff holds degrees from Queens College, Pratt Institute, and Columbia University. He is Emeritus Dean and Distinguished Professor at the University of South Florida and was a curator at the Guggenheim Museum in New York. Saff has taught and authored books and numerous articles in the field of art history. His own work has been documented in a recently published book titled Donald Saff:
Art In Collaboration
(2010). Saff's art is in the permanent collection of many major museums including the Metropolitan Museum and the Museum of Modern Art in New York and the National Gallery in Washington, D.C.
For many years he has focused his research on the technology and history of clocks of the 19th century, which has yielded many publications including articles about the first public clock of Edward Howard and W. R. Smallwood's standard time clock. He has also written the chapter on American precision clocks in Derek Roberts' comprehensive Precision Pendulum Clocks (2003). Saff has lectured on the clocks, watches, microscopes, and micrometric rulings of Charles Fasoldt.
As the industrial revolution progressed, a time standard became increasingly more important for public safety, production efficiency, geodesy, and communication. The second half of the 19th century brought to fruition greater accuracy in establishing the specifics of a particular longitude as pursued by John Harrison in the 18th century.
The gifted astronomers and horologists of the Bond family were uniquely suited to advance both sciences in a combined effort to provide an incomparable and rigorous standard for public time. The Bonds were able to do so by using their skills and those of the clockmakers in their Boston shop, the observations at Harvard College Observatory, and the almost instantaneous communication provided by the burgeoning telegraph companies. With the observations by William C. Bond at Harvard and his liaison with John Hartnup in Liverpool and George Airy in Greenwich, a coordinated public time distribution and policy evolved. At the heart of the "American Method" for recording timekeeping star transits was Richard Bond's chronograph. The adoption of standard time would soon follow. Bond's variations on Denison's gravity escapement as designed for "Big Ben" and precision clocks by Fasoldt, Howard, Seth Thomas, Self Winding Clock Co., and others were the instruments of growth in developing precision time metrology. Richard Bond's efforts in the field of constant force escapements resulted in a suite of three clocks whose merits continue to receive qualitative and aesthetic admiration for their accuracy, craft, and beauty. They remain at the pinnacle of American horology.