David Rooney
Curator of Time, Navigation and Transport, Science Museum, London, and Former Curator of Timekeeping, National Maritime Museum, Greenwich (U.K.)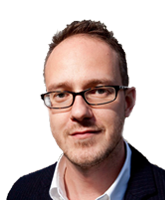 The Quartz Revolution: Quartz Clocks and the Public in Britain, 1930–60
Biography
Presentation
Further Information
David Rooney is a writer, historian of technology, and Curator of Transport at the Science Museum, London. He was formerly Curator of Timekeeping at the Royal Observatory Greenwich, part of the U.K.'s National Maritime Museum, where he co-curated the award-winning Time Galleries and wrote his first book, Ruth Belville: The Greenwich Time Lady (2008). At the Science Museum, he was an associate curator of the landmark millennium gallery, Making the Modern World, and more recently curated the museum's retrospective exhibition, Alan Turing's Life and Legacy. He is a Member of the Institute of Physics, a Council Member of the Antiquarian Horological Society, and a Liveryman and former Steward of the Worshipful Company of Clockmakers.
Quartz crystals keep time for the world. Since the 1980s, these electrical timekeepers have been found in every home, and strapped to every wrist. We are now so familiar with the accuracy, ubiquity, and affordability of quartz clocks and watches that the everyday timekeeping they enable has become all but invisible, hidden within the black box of modern consumer technology.
But the quartz clock on the kitchen wall is only half the story. Quartz timekeeping has been a fundamental part of our everyday lives for over 60 years. Invented in the 1920s and refined in the 1930s, quartz clocks have kept time for Britain's domestic time signals since the 1940s and '50s. Even today's atomic clocks contain a quartz crystal at their heart.
David Rooney's presentation has two aims. Firstly, he will explore the early history of quartz clocks in Britain and their use in public time signals, revealing the distribution of quartz time into everyday life long before affordable quartz clocks and watches became available. Second, he will look at how the quartz clock was presented to, and received by, the British public during and after the Second World War. He will focus on two surviving early quartz clocks now in the British national collections and will examine ways in which both devices were mobilized as public exhibits amidst complex dialogues of pride and peacefulness through technology and science.